KAC Youth Gatherings are a safe space for students grade 7-12, regardless of who they are, where they come from, or what they believe. We provide a place for youth to encounter the presence of Jesus, learn more about who He is and what He is doing in our world, and how they could be a part of it, all while having a ton of fun. We're all about connection and growing together and we would love for you to be a part of our community. Our hope is to see Jesus do big things in the lives of the youth at KAC.
KAC Youth Gatherings are on Thursdays from 7:00-9:00pm.
We think that Thursdays are the best night of the week because that's the night we get to have a fun time hanging out, playing games, hearing a message from one of our leaders, studying the Bible, worshiping, and having lively conversations in Life Groups, which are small groups of students that journey together throughout their time at KAC Youth.
For most of our time together we stay in one large group but like to split into two groups during most of our teaching times. Students in Gr. 7-9 stay together and journey through the Bible with an engaging message from one of our leaders. For students in Gr. 10-12, we like to put the Bible in their hands and have our leaders help guide them through a series of questions that are designed to equip students to dig into the Bible and discover its relevancy for themselves.
Special Events
Every now and then we like to switch things up and have a night where we go big and have a ton of fun. These nights have different themes and are filled with exciting games and activities that help us connect and build memories together.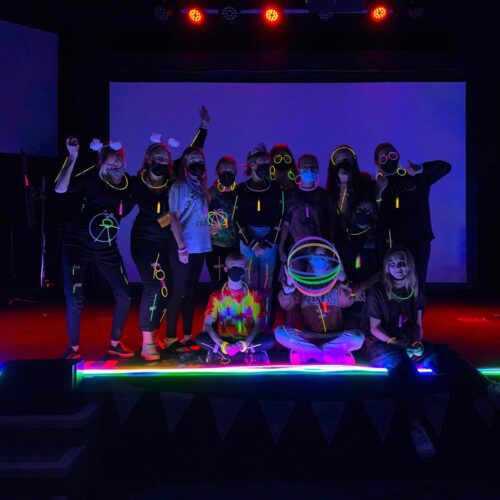 Community Nights
Like our special events, we have nights planned that are designed for just you and your Life Group. These nights are about deepening friendships and your faith in a smaller community, having great conversations, and yes, a lot of fun. These nights could include things like video games, baking, bowling, swimming, or whatever your leaders plan.
Where do I drop of my students?
We have two different entrances for our students. For those in Gr. 7-9, they can be dropped off at the main entrance at the front of KAC. Students in Gr. 10-12 can be dropped off at the Ministry Centre entrance. Both are marked with 'KAC Youth' flags.
Can my students attend KAC Youth if our family doesn't normally attend KAC?
Yes, absolutely! If your family attends a different church or isn't a part of a church, your students are still welcome. It is so important for youth to have a place where they can connect and grow in community and we would love to have them join us no matter what their life looks like.
Does it cost anything for my student to attend?
No! There is no cost to attend regular KAC Youth gatherings. However, students do pay a cost for activities outside the regular program, such as retreats, all-nighters, and conferences. We never want a student to miss out on something, so if cost for any of these events is an issue, we welcome you to connect with the KAC Youth team to discuss options.
Can my student move up to an older age group?
Our program is organized to provide each age group and developmental level with activities and messages that are best geared to the particular understanding and attention span of each student's age. Therefore, we do not allow a student to move up into an older student's age group before they reach the appropriate age/grade level.
What is a Life Group?
A Life Group is a small group of students that journey together through their time at KAC Youth, and are led by fantastic leaders who help your students in their life and walk with Jesus.
Partner with us
Did someone make a positive impact on you during your teens? Whatever your stage of life, our youth need mature followers of Jesus willing to be mentors and leaders. We encourage you to consider checking out what being a leader at KAC Youth could look like for you.